my pretty daisy was born two days ago..
9:51 p.m. - 2021-09-16
Feeling Celestial!

i can hardly wait for autumn! moon: pinterest.
7:03 p.m. - 2021-09-15
Holidaze

down in st. tropez..
11:38 p.m. - 2021-08-18
Butterfly Selfie

i love it when butterflies like to pose for my camera :)
9:27 p.m. - 2021-08-15
Boho Phone

my new samsung a11 galaxy phone + tree of life cover (from amazon)
9:17 p.m. - 2021-08-10
Veggie Dish

best dinner ever!! fusilli pasta with green beans & cheddar cheese in pesto sauce.
10:27 p.m. - 2021-08-09
Plant Selfies

my plant family
9:50 p.m. - 2021-08-06
Mandala Stick

groovy mandala print plant deco stick.."i am sooo jungalow!!"
10:20 p.m. - 2021-08-05
Peaceful

being high on nature.
9:35 p.m. - 2021-08-03
Watership Down Bunny

This scene I photographed reminded me so much of the film Watership Down..this one is Hazel.
11:44 p.m. - 2021-07-31
Boho Clutch

10:14 p.m. - 2021-07-28
Vegan Lentil Burgers

homemade vegan lentil burgers with black beans, red bell pepper, mushrooms & vegan cheese..super healthy & equally as yummy!!
9:43 p.m. - 2021-07-27
Hippy Sunshine

"sometimes you have to create your own sunshine.."
9:50 p.m. - 2021-07-26
Poetic Earth

"some of us just want to write & wander the garden & breathe in the sky & nourish & nurture & quietly create new pathways & live our lives as our art..to know the earth as poetry" - victoria erickson.
8:25 p.m. - 2021-07-22
Summer Solstice

perfect summer day for a picnic in the park in my thrifted hippie skirt & new birkenstocks from winners.
8:24 p.m. - 2021-07-22
African Queen

my African Queen painting inspired by online art..i added my own colours & tribal prints..i love what i came up with!
9:21 p.m. - 2021-07-15
Summer Solstice

lounging outside with a good book even tho the winds are so twister-like.
9:37 p.m. - 2021-07-07
rain storm

thundery rainy weather today..so i watched Go Ask Alice.
10:49 p.m. - 2021-06-21
Jungle Boho Room Tour

jungle boho inspired room tour..this is the view from the door..
this is the left side of my bed with my sock monkey Garcia..i've had him for years..(graduation gift), then right side of my bed with monstera plants..
backside of my door and my computer desk area and closet..
right window beside closet and left window..and my makeup table in center..
5:34 p.m. - 2021-05-30
There Ain't No Other Road On Earth...
Went ghost haunting with a friend a few days ago and we came across two giant round cylinder tubes inbetween overgrown stalks of grass, and a winding narrow pathway in front of it and the scene was something straight out of My Own Private Idaho! I looked at it making a circle with my hands like a photo lens and it did look like a f**ked up face!! "There ain't no other road on earth that looks like this road..I mean, exactly like this road..one of a kind like someone's face, like a f**ked up face.." - River Pheonix. We went inside each tunnel tube and we could hear our voices echo loudly inside like 500 ghosts whooping it up! It was fun!! I've gotten in a creative mood lately making trippy hippy art and stone art during the heatwave which only lasted for a week and now its cold and rainy clouds again. Spending lots of time at Fireman's Park, walking amongst the lilac trees and sitting on the massive stones in the outdoor Greek-like amphitheater..missing the outdoor night raves me and my friends used to go to at the amphitheater in Ottawa! Last week I painted two of my bedroom walls out of sheer boredom, I basically wanted to get rid of the horrible pee stain yellow on one of the walls. It looks very boho chic with the white paint now!! Been collecting kimonos - wow, a wonderful pandemic hobby!!
7:35 p.m. - 2021-04-19
Down Brit. Pop Memory Lane
What happens when I am so bored? I start to reconnect with my favourite Brit. pop bands of the 90s..I have to rewatch Glastonbury Festivals just so I can start swooning over hotties like Tommy Scott (Space), Gryff Rhys (Super Furry Animals), Crispian Mills (Kula Shaker)--although this band is still being played constantly, umm..who else? yeah, John Power (Cast), Dodgy (Nigel Clark), and I'll throw in Tim Burgess (Charlatans). I'll have to look through my cd treasure chest to locate Spiders - Space, Fuzzy Logic - SFA, All Change - Cast.., Supergrass. I own all Kula Shaker albums (my fav. band ever on the whole planet!!)..I think I only kept 1 Blur album - Park Life and I think 2 of the early Oasis albums. Oh yes, and dance stuff..Digweed (Heaven Scent)--is there any techno dance tune better than this??..umm..Jamiriquai - Canned Heat..Prodigy..Chemical Brothers..Orbital..and then there are soundtracks like Trainspotting, Twin Town, etc..every time I hear Lust For Life - Iggy Pop I want to go outside and just run..haha.
7:55 p.m. - 2021-04-08
Brian Cox
What can I say about this guy? I first discovered his show Human Universe on BBC Earth channel a month ago (when this channel used to be free!!), anyways, I spent more time looking at the walking brainy eye candy than the things he was talking about! heh!! Brian is not only a famous physicist but he's also been in two bands (not that well known though, I had to google to find out). Of course I love to learn new things surrounding our solar system, new discoveries of species of animals, climate change and how it is affecting our planet etc..but unfortunately I have this huge crush on this good-looking guy so much that I have no clue as to what he is saying most of the time. Now, since the loss of this channel, I really miss seeing him!! Thankfully, youtube has a lot of his shows, interviews etc..man, will this crush ever end?? haha. source:pinterest

7:22 p.m. - 2021-04-03
Birthday Haul
A day before my b-day, i got a plant delivery from a friend, an exotic banana plant..those are so beautiful!! Also 3 small succulents which I will transfer into a boho pot. I baked my devil's chocolate cake with raspberry jam in the middle, and created a moon phase on top using white macarons. Next day, on my b-day, the day started off with a surprise from another friend!! I got 4 daisy balloons and a cupcake b-day balloon on a string..soo groovy!! Also got chakra incense for each energy, a groovy handmade tumbler with a pic of a hamsa hand on front and my name on the back, chakra rocks jewelry set, cranberry tea (which is really good!!), and a groovy elephant card!! Wow, love everything!! Than me and mom headed on a road trip to Dufferin Islands and we hiked in nature beside a brook. It was a lovely day out with no rain!! Then we ate vegan hotdogs and had cake with Ben & Jerry's cherry garcia icecream. Then had fun opening up pressies..here's what I got: from my Godmother, a beautiful peasant floral embroidered blouse (similar to what Penny Lane wears in Almost Famous!), from mom got: gold moon phase wall decor, Hindu God Shiva figurine, incense, Buddha head plant pot holder, moccasins, 3 books: The Crystal Bible, The New Bohemians Handbook and Siddhartha, peacock print wall tapestry, boho jewelry, Mandala print t-shirt, Flower Child t-shirt, elephant print harem pants, tie-dye headwrap for dreadlocks, elephant print boho skirt, straw beach bag that says "Aloha" on it, strawberry scented bubbles..Watched Almost Famous.
6:03 p.m. - 2021-03-02
Life..Love..Peace!
I wish the whole world would be like an Enigma song - pure beauty, compassion, nature untouched by human hands, no disease, no tragedies just LIFE..LOVE..PEACE! I gave to the Stop the Seal Killings/Save the Seals..its heart-breaking what sort of fuckin' monsters could actually kill such defenseless sweet beautiful animals! Please, if you get these animal rights things in the mail, do give some amount to help them. Animals/nature need all the help they can get. I do not know where the heck I've been? haha..I've just discovered the BBC Earth channel..its like a nosebleed to get there, but I am so happy that I can finally watch nature stuff all the time, it's my favourite thing ever, other than horror shows. Ohh..wow, I have this huge crush on Zak Bagans!!
"If someone thinks that love & peace is a cliche that must've been left behind in the 60s, that's his problem. Love & Peace are eternal." - John Lennon. Well said, dude!:)
4:49 p.m. - 2021-02-16
Snowed In
Oh wow, we got nearly 50 cm of snow, tried to shovel but its like you need snow shoes to walk on top of the snow otherwise I would sink and be stuck in it!! And we are getting an additional 35 cm more with non stop snowing for 3 more days!! This freakin' sucks!! I wish we had a skidoo!! I think that Southern Ontario has been declared a disaster area. And the shops finally opened today..can anyone actually get out?? I am so sickly depressed with winter now!! I want spring, birds chirping, soft rain, wearing less clothing, trees starting to get green and tulips and lilacs blooming!! I got perfume from mom for Valentine's and the scent is amazing, reminds me of carnival cotton candy, the ones that they make fresh right in front of you, but the bottle itself was boring with an awful sticker on it, so I took the sticker off, and personalized the bottle using acrylic paints, I painted daisies and half moons on it, and in the back I painted "Hippie Moon Glow". It turned out so groovy!! My mom loves it and she thought I had stickered it..haha. I sent a pic of it to my friends and now they want me to personalize their boring perfume bottles too. :) I keep having dreams lately when I have fun shopping like I used to!! I went with friends to the mall and there was a huge Forever21 and we had to line up at the changeroom, and I went in to try a bohemian dress, and I came out of room, and a guy sneaked in and closed the door on me..how rude! haha..so then we looked at the jewelry, and then in the mall, there were hippie vendors selling so many groovy things..I picked up a Buddha bowl but it was so expensive. I got a white quartz with dream catcher keychain and then at another stall, there were these white harem pants with gold elephants and they fit perfect, and then I was trying on a long Indian skirt with roses on it. I love dreams like this!!
5:27 p.m. - 2021-02-09
Blizzards + Coconuts
What to do when you can't get out? Reorganize rooms! Been trying to minimalismus my space by putting away stuff I don't use..less is better! I long to go thrifting!! It's just so freakin' depressing not being able to live a normal life anymore..it's like everyone has been robbed of their freedom! The pandemic would be less opressive if we would live somewhere warm, or Australia where they have summer now! We could sit outside the patio, have lunch out there, create art, do art projects, walk in nature, hula hoop in field of daisies, walk barefoot in the grass amongst the dandelions, walk on the sandy beach, go on a hiking adventure..there are so many things you can do in warm weather as opposed to having to sit indoors because it is minus 10 windchill outside or blizzards, or ice rain..it really sux!! I love going shopping weeks before my birthday, thrifting for treasures, bohemian/hippie clothes etc..but now I am forced to order things online, which is okay, I guess. Been getting groovy stuff from Amazon, so that at least lifted my spirits! And also bohemian jewelry items from CoconutQuartz. And listening to Indian and African downtempo music puts me in a summery mood. And I didn't know there are actual real-life vampires living in Louisianna!!!?? How crazy is that? And there are spirit orbs flying around in the swamps there..that was creepy to see on that show! Also watching on Fridays, Animals Unscripted, this is fun!!
4:24 p.m. - 2021-02-05
Fright Addiction
I have been obssessed with the dtour channel and just watching most of the haunted shows during these awful times during lockdown!! Ghost Adventures is now in a screening room but it's quite entertaining..Zak looked like he was purposefully choking himself to death in last night's episode..that freaked me out! I would love to brave that haunted forest and see it for myself if it is trully that horrifying! Also been watching The Holzer Files, Ghost Nation, and of course my absolute favourite is Destination Fear, it's got a unique twist to it that they have to draw names from a hat to see who sleeps where for the remainder of the night. My favourite is Tanner, he always cracks me up when he gets totally scared by himself. To keep myself from becoming depressed, I have been online ordering from amazon for my birthday since the lockdown could last till after my birthday which really sux because I really want to go thrifting!! So I have been getting amazing hippie/boho stuff in the mail and also I really want to get the book Siddhartha so I have no idea when Chapters will reopen?? I have decided no more photos, this will be strictly a written diary even though I am not much of a writer but hey, I will try. People seem to like reading more than seeing pictures anyways. That's the impression I always have. I got a pack of tarot cards a while back from the Halloween Spirit shop but it did not come with an explanation booklet, so now I have to google each card and write down their meanings, so time consuming but that's okay, there's not much to do anyways. Also been doing sewing projects, making hippie scrunchies while listening to loads of Xavier Rudd and nature sounds. Thunderstorms make me think of summer and birds chirping just makes me feel a whole lot better even though there's a snow squall happening outside today.
4:35 p.m. - 2021-02-01
Boho Books

Essential reads during the awful pandemic!!
4:02 p.m. - 2021-01-10
Life of Goodness Food

I have started off 2021 by eating much healthier and iron is very important to have in your body! This meal consists of sweet potatoes, green beans in curry, chick peas, avocado slices, curried quinoa, and vegan vanilla yogurt. After eating this, I wasn't hungry for hours and had lots of energy to exercise and walk outside.
7:36 p.m. - 2021-01-06
After Daylight


Lovin' my beanie for dreadlocks..super groovy!! Since I have recently watched Jurassic Park I have become obssessed with dinosaur earrings - stegasaurus. I've been walking out in nature a lot, even when it is super cold and snowy outside, this is much needed for my mental health!! Since we are in a forever long lockdown, I must've did closets at least a dozen times!! Lotus flower incense in the air is very soothing, listening to After Daylight by Enigma, wishing summer would already be here..wishing I would be living somewhere warm during this freakin pandemic so that it would be less stressful knowing that I could sit out on the balcony and create art in the warm sunny air instead of most of the time being indoors coz of the cold and snow!!
3:09 p.m. - 2021-01-01
Groovy 2021!


Happy 2021!! Stay cheerful, groovy and bright!! Think positive thoughts, keep yourself busy, be patient, relax more, be creative, stop being lazy, minimize stuff, reorganize rooms, do eary spring cleaning, and be safe and smart!
7:26 p.m. - 2020-12-23
God Jul!!

Stay safe during the holidays!!
4:08 p.m. - 2020-12-20
Cozy Sunday

Q: What is creativity? A: The relationship between a human being and the mysteries of inspiration.
3:32 p.m. - 2020-12-17
Boho Hippie Mood Board

I'm loving how my boho/hippie mood board turned out! I wanted something cheerful and colourful with my trippy artwork, mandala prints, a few of my fav. hippie people, and animals, and a Dark Crystal card on bottom right corner which I got from my boyfriend. Niagara region will be going into red zone on Monday and may be heading towards a lockdown. Thankfully we had done all our Christmas shopping online and shops by the middle of November!! It saddens me what the world has become, will we ever get back to normal?? Can't get together with friends and relatives during the holidays, no parties, no going out to Rain Forest cafe for our traditional fun at Clifton Hill, it really sux!!! It's going to be a very quiet Christmas, but we will still manage to have tons of fun anyways!
4:13 p.m. - 2020-12-11
Wyoming

Goals for today: declutter rooms, yoga meditation, dream of camping out in Wyoming (a postcard I got in the mail from a friend in the US), go on a road trip and reconnect with Mac DeMarco and the Arctic Monkeys.
7:33 p.m. - 2020-12-10
Flower Crowns

I miss summer already so here is my summer flower crowns!
3:04 p.m. - 2020-12-09
DIY Boho Christmas Wreath

This was pretty easy to make but very time-consuming! It took nearly 3 hours to complete.  First I took a pizza box and cut out a round circle and then I cut out the middle part to look like a donut, then I took twigs and glued them onto the cardboard and went around, then I had to make pom-poms using yarn and then I used Marley's cat brush to fluff the pom-poms and then I glued them around the smaller circle, then I glued real pine bits around the outer edges of the pom-poms, and then I took 4 pine cones and glued them on (I unfortunately did not have a package of small pinecones to glue around, so I had no choice but to use only 4 large pinecones.  I think it turned out really great!! I got this idea from Katia's tutorial video..
2 BOHO DIY CHRISTMAS DECORATIONS - YouTube
4:24 p.m. - 2020-11-30
DIY Crystal Shelf

This was really easy and fun to create!!! I went outside to collect twigs in the backyard..
* you need 4 x 23 cm, 4 x 15 cm, 4 x 7 cm lengths of twigs
* glue gun
* start off with 2 23 cm and put a 15 cm on bottom to start off the shelf
* then you just keep adding all 4 twigs on bottom and all 4 smaller twigs on the top part
* then you put on the back part using the other 2 23 cm twigs
* finish off with twisting a piece of rope on top part
Thanks to Jasmin Lunar for giving me this groovy project idea!!
2:33 p.m. - 2020-11-24
DIY Moon Holder

It took me hours to wrap yarn around the plastic moon holder, but I love it a lot!!! I do not like the look of plastic, this makes it a lot more boho and it was very easy to do, you can actually cover any plastic with yarn and all you need is a glue gun to seal it.
4:26 p.m. - 2020-11-15
It's Just Another Day

It makes a lot of difference to me when the sun is out and it's warm outside!! I feel creative and energetic..doing artwork, hulahooping, hiking in nature..I made a friend with a woolly bear.  I haven't seen these all summer and all of a sudden in November, I found one. This one was quite friendly and I placed the woolly somewhere safe.  Now the sun has disappeared and we have hurricane-like winds, its pouring, and its grey and this kind of weather has a huge impact on me.  We haven't seen the sun in Southern Ontario for a while now and it is winter.  I get totally lazy and I sleep in late.  So, to combat the ungroovy vibes, we decorated two Christmas trees yesterday and danced to Christmas music and felt a whole lot better!! However, I long for hot climate with groovy palm trees and the sun in my face.
2:18 p.m. - 2020-11-03
VOTE!!
When someone says that you have to support human rights to be a hippie! GOSSSHHHHH!!! VOTE PEOPLE VOTE IF YOU WANT TO SAVE THE WORLD!! Of course you can be conservative and be a hippie, both are based on limited government and civil society..yeah, baby!

Source: redbubble
6:25 p.m. - 2020-10-25
Fear Street

These are just a few of many R.L. Stine Fear Street books in my collection..my favorite in these is The Mind Reader..soo thrilling!!! And my two favorite episodes on TV is of course Lily D. (The Haunting Hour), and It Came From Beneath the Sink (killer sponge - Goosebumps). I thrifted all my books from Value Village.
3:30 p.m. - 2020-10-21
Purple Haze


I love it when it feels like summer in Autumn and I can dress like I'm going to Woodstock to see Jimi Hendrix rock out on stage and I can blow bubbles and feel hippy dippy free!!
4:21 p.m. - 2020-10-18
The Ring Barn

I love how my painting turned out..this is my interpretation of the groovy creepy barn in The Ring film. I used black ink to draw it and then i used acrylics. This is the part of the film that I anticipate the most..just to see this amazing looking barn!! And of course Samara's room inside with the cute carousel.
7:08 p.m. - 2020-10-07
Witch Crystals

5:57 p.m. - 2020-10-03
Top 10 Horror Film Soundtracks


1. Rocky Horror Picture Show..fav. song: Over At the Frankenstein Place
2. The Ring..fav. song: Samara's Lullaby
3. The Changeling..fav. song: the Music Box Theme
4. Halloween 1978..fav. song: Laurie's Theme
5. Lost Boys..fav. song: Cry Little Sister
6. Suspiria 1977..fav. song: Suspiria Theme
7. Rosemary's Baby..fav. song: Lullaby from Rosemary's Baby
8. Lost Highway..fav. song: I'm Deranged - Bowie
9. Candyman..fav. song: It Was Always You, Helen
10. I Know What You Did Last Summer..fav. song: Hush - Kula Shaker

source: googleusercontent

3:04 p.m. - 2020-09-17
Monarch


I captured this incredible image yesterday in the garden..makes you really appreciate the little things in life!
7:42 p.m. - 2020-09-14
Circle of Friends


I'm blessed to know so many groovy peeps in the online galaxy..i miss outdoor festivals a lot, raving, seeing new places, and my usual haunts.
2:09 p.m. - 2020-08-10
Boho Room


I reorganized everything in my room..my bed used to be against the corner wall and sideways, now its in the middle of my room which has given me way more space!! I'm really lovin' it!! I also love my new forest tapestry and my flower print canvas picture!! Both are from Shein. Since its been an extreme hot summer and not being able to go anywhere, there hasn't been much else to do but organize and get rid of stuff.
8:26 p.m. - 2020-08-07
Mushroom Earrings



I got a Shein haul with 2 pairs of neon mushroom earrings..they are super big!! These yellow ones are groovy and I got pink mushrooms too. So Marina Fini!!
2:05 p.m. - 2020-08-02
1970s Retro Modern

source:pinterest (McModern Studio)
This is like my dream living room!!!
1:36 p.m. - 2020-07-31
Hippie Shein Haul


I got these groovy things in the mail recently..lovin' my patchwork bellbottoms a lot and I got a package of 90s butterfly hairclips..i was disappointed that they were small compared to the ones I got a while back from forever21 but the colours are way groovy!!
3:25 p.m. - 2020-07-19
USOs


source:pinterest

This is what I am fascinated with lately..Unidentified Submerged Objects (USOs)..I first heard of them on Ancient Aliens and UFO Hunters etc..theres been quite a lot of discussion on this subject, that there could be alien life forms or ufo bases under the ocean floors! There have been unexplained strange lights, and sounds coming from there and no one really knows what exactly is causing this? Also, I've learnt that the octopus could be from another planet because it is a highly intelligent ocean creature that is capable of many things! The octopus is my spirit animal :) So knowing that it could come from another planet is amazing!!
2:46 p.m. - 2020-07-05
Psychedelic Art



Recent artwork created in the humid hot sunshine..mushrooms, and a hippie sign inspired by the film Psych-Out. I got sick from drinking too much of Timmy's strong iced coffee!! I thought I was gonna start climbing the walls!! Way way much caffeine and I was ready to fly myself to the moon!! Not been doing much lately except reorganizing the basement, getting rid of stuff, because its so much cooler downstairs when its like 41 humidity!!
2:23 p.m. - 2020-06-28
Tambourine, Anyone?



Do you enjoy your own company? I create art when i'm alone. Here's a few new groovy pieces I recently did outside on the patio when it was humid (+40)..a 1960s inspired hippie tambourine, and a wooden moon hanger. I also like to go on nature adventures, play dress-up, sing, and hula hoop. What are some of the things you like to do?
2:47 p.m. - 2020-06-24
Mr. Elevator & the Brain Hotel


I love it when I discover a new band with a psychedelic sound..way groovy!!
1:56 p.m. - 2020-06-22
Water Colors

7:16 p.m. - 2020-06-18
Happy B-Day Paul McCartney!



source:pinterest
7:24 p.m. - 2020-06-15
80s Film Fest


Been doing Starbucks & Timmy's drive-thrus lately because I've been on this huge caramel latte crave!! Its been freezing cold too and we've been doing an 1980s filmfest for a week now..fav. 80s films: Blind Date, Pretty In Pink, Breakfast Club, After Hours, Desperately Seeking Susan, Less Than Zero, Arachnaphobia, Teachers..after 80s, its going to be the 90s because we've already done the 60s & 70s. I really can hardly wait to thrift again!!!!!
4:48 p.m. - 2020-06-12
Can You Dig It?



We are stardust, we are golden, and we've got to get ourselves back to the garden..

New artwork I created over the weekend..trippy hippy poster art and a cheetah.
1:32 p.m. - 2020-06-08
Roller Queen



I miss rollerskating at the rink in Mississauga so I took my rollers out and nearly fell on me butt..haha. The driveway is no rollerrink and filled with rocks. Wearing my Wrangler retro tee that I got off of ebay a while back. Been watching Scooby-Doo and Welcome Back Kotter episodes online..haha..why did they make John Travolta such a big dummy?? Who is your fav. sweathog character? Mine is Arnold..OH..OH..OH! source:pinterest
2:18 p.m. - 2020-06-07
Snail Trail



"Breathe, breathe in the air Set your intentions Dream with care Tomorrow is a new day for everyone, Brand new moon, brand new sun, So follow, follow the sun, the direction of the bird, The direction of love" **Xavier Rudd**
1:42 p.m. - 2020-06-05
Bowie Love



Watched Labyrinth last night..its one of my fav. fantasy films and I heart David Bowie in it a lot!! The characters are amazing,and the maze is a place I would love to be lost in! Except for the stink bog..haha!
8:04 p.m. - 2020-06-03
Closet Purge


It was storming real bad yesterday..we got hail and twister like winds!! So I decided to colour-coordinate my closet. I think it turned out pretty groovy! I also noticed that my fav. colour has to be blue..i have so many blue stuff..all shades of blue!
7:09 p.m. - 2020-05-29
Stop Racism!!


It was absolutely disturbing and devastating, and heartbreaking what happened to George Floyd!! This has to stop!!
12:55 p.m. - 2020-05-28
Space In Mind


Artwork I created in honour of NASA's space launch which was supposed to happen today..anyways, this piece is titled Space In Mind.
THE MOON:
This is the planet that rules the Sacral Chakra - the moon is the symbol of femininity - our desires and passions can move great oceans of energy (sacral chakra = element is water), the moon rules the unconscious, the mysterious, the unseen, the dark, as we move from our depths outward to create change in the world..
2:13 p.m. - 2020-05-26
Baby Lemonade

Hot humid summer daze..enjoying creating art outside on patio, listening to Syd Barrett, wishing I had a glass of freshly squeezed pink lemonade..
1:45 p.m. - 2020-05-25
Retro Shelfie



Been reorganizing my stuff lately..trying not to think of the fact that I haven't thrift shopped for nearly 3 months, or ate fish n chips at Ikea and had fun shopping there (the Ikea magazines are my bible!), or went out to a restaurant with friends and family..i really miss it a lot!! It's frustrating how much our lives have been wrecked! :(
7:18 p.m. - 2020-05-22
Mandala Pillows


Two groovy mandala print pillows I ordered from Grandcrafts.com..i especially love the peacock mandala one on the right coz it reminds me of a tapestry I've been wanting for like forever!
2:50 p.m. - 2020-05-19
May Playlist


soure:fine art America

1. Rainy Day Mushroom Pillow - Strawberry Alarm Clock
2. Conquistador - Procol Harum
3. It's A Happening - The Magic Mushrooms
4. Green Tambourine - Lemon Pipers
5. Dizzy - Tommy Roe
6. Fox On the Run - Sweet
7. Out of My Mind - The Backdoor Men
8. Black Betty - Ram Jam
Hey Groovy Peeps! Just a short compilation of songs I've been jamming to lately..mostly psychedelic tunes with some funky grooves mixed in.
9:19 p.m. - 2020-05-17
Miracle Eye


Miracle Eye drawing I did and stuck it on my window..since I couldn't order the sticker, I decided to create it instead. Went out for a ride today even though it was raining, everything seems so grey lately and everyone seems to be dealing with quarantine issues in so many different ways. How are you dealing with it?
8:25 p.m. - 2020-05-16
Sunny Goodge Street


Took my own custom made denim jacket and orange velvet shorts out for a walk around the neighbourhood and found a groovy little park.
4:33 p.m. - 2020-05-15
Abstract Art


2 drawings I recreated from the original artist..i think its Vasserely or Calder? This was the first real summer day to laze outside under the sun until the storm hit with torrential rain and cooled things off again..
2:10 p.m. - 2020-05-14
Shelley Duvall


I absolutely adore Shelley Duvall, especially in the film "The Shining"!! She's one of my most fav. fashion icons of the 70s! source:rogerebert.com
2:50 p.m. - 2020-05-13
Daisy Hippie Flowers


I made some hippie flower power daisies out of felt and hand sewn them onto my curtains. I think they turned out super groovy!! Also been baking a lot, chatting with friends online, ordering groovy stuff online, watching 1970s tv shows on dvd like Bionic Woman and Welcome Back Kotter. Playing fetch with my cat..yup, Marley thinks he's a dog!
2:36 p.m. - 2020-05-12
'Cause I Wear My Boots All Summer Long



It's a Stevie Nicks sort of day..
2:58 p.m. - 2020-05-11
Jerry Garcia Art



My Jerry Garcia drawing..amazing thrifted trippy print skirt that matches Country Joe, and wishing I was at an outdoor festival with the sparkling hot sun in my face!
3:10 p.m. - 2020-05-08
Meet On the Ledge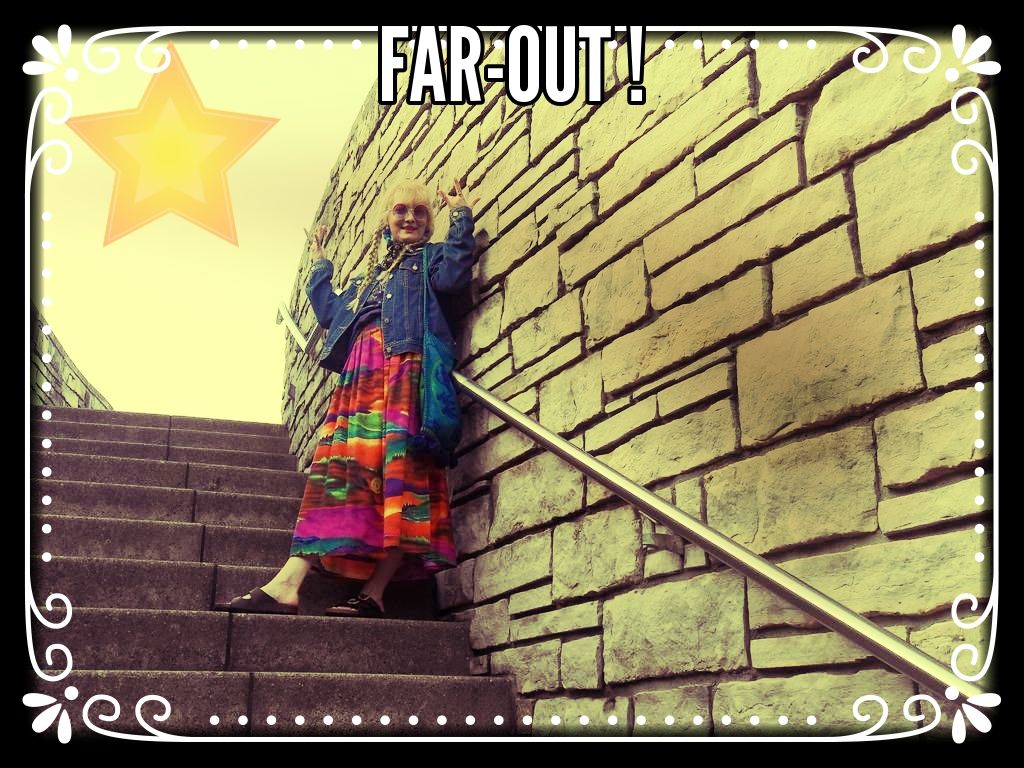 This pic was taken last summer when the world wasn't out of control, when daydreaming about the future was just a step away, when you could breathe easy, and venture anywhere you wanted to go..I feel like i'm travelling on the Starship Enterprise to apocalyptic lands where danger lurks..i think I've been watching too much 1966 Star Trek lately..haha..
3:06 p.m. - 2020-05-06
My Fav. 1970s Adverts

6:25 p.m. - 2020-05-05
Rock T-Shirt Collection


Some of my fav. rock t-shirts..including a vintage Queen that I found in Out of the Past thriftshop.
3:12 p.m. - 2020-05-04
Like A Rolling Stone


Thinking of how much fun summer art camp was with friends a while back..sitting at the camp fire telling ghost stories..Pammy was so good at them!! She would tell us the "drip..drip" one about the maniac under the bed which scared us all!! There were no night lights inside our cabins so we'd leave a flashlight on or a kerosene lamp on til dawn.
7:20 p.m. - 2020-05-03
Psychedelic Mushrooms

3:15 p.m. - 2020-05-01
A Hippie Anecdote


All my life I have been having fun experimenting with different fashion styles..I went through a punk phaze, goth phaze, rockabilly phaze, 1940s/1950s phaze, indie rock phaze, well, basically every fashion phase you can think of..haha. But I've always went back to what I love the most..hippie/boho fashion coz that is the real me! I'm totally a flower child..always was, always will be..sometimes I do a 1970s Stevie Nicks witchy look, or 70s rock n roll look, but I prefer the look that Kate Hudson had in Almost Famous and I also admire Janis Joplin's style very much. I don't like to copy other people, thats never really been my intention, I like to see and take certain aspects of fashion & put them together to make it my own. A few years ago in high school, there was a clique of hippie people whom I admired very much. At that point, I was totally clueless to fashion & just wore what I wanted to wear, mostly dark stuff. I didn't even know who The Doors were. I was in an art class filled with super groovy people & sadly I wasn't one of them. I began to search my soul for an answer & started to wear hippie skirts, tie-dye, & introduce myself to psychedelic music & something in me clicked for the first time, I knew who I was..although as a child, I was the original daisy girl, I wore flowers in my hair all the time, I just never realized what it all meant until later on in life. So, yeah, fashion journeys can be fun, tiresome, whacky, tacky, and in the end, you trully discover the real you! So, I'd like to thank all the wonderful hippie girls and guys who were in my art class for opening my eyes and finally finding out who I am.
7:49 p.m. - 2020-04-29
April Groovy Playlist


source:thedissolve.com
1.School's Out - Alice Cooper
2. (Bang A Gong) Get It On - T-Rex
3. Mellow Jam - Hendrix
4. Dreams - Grace Slick
5. I'm So Happy - Rainbow Ffolly
6. In the Time of Our Lives - Iron Butterfly
7. Cactus Tree - Joni Mitchell
8. I Could Be Singing - Arlo Guthrie
9. That's Your Business - Joe Cocker
10. Viola Lee Blues - Grateful Dead
7:21 p.m. - 2020-04-28
Listen To the Flower People



I miss walks in the park, collecting stones, thriftshopping, road trips with friends discovering new treasures, caramel lattes and birthday cake pops from Starbucks, pear tree pizzas at the Mahtay, going on a long hike etc..
3:30 p.m. - 2020-04-27
Happy Monday!

4:03 p.m. - 2020-04-26
My Top 5 Hippie Exploitation Films


1. Easy Rider (1969)..this is the ultimate road trip movie..the story is basically these two biker buddies who travel across the States and meet lots of interesting people along the way, like a hippie commune where they try LSD. They also make friends with a lawyer (Jack Nicholson), and take him along their adventure. It ends real sad though. I also own the soundtrack on vinyl which is filled with great songs!! My fav. is The Weight - The Band.."take a load off Fanny..take a load for free.." and I have this endless obsession with Peter Fonda!! Loooove him!! He's so dreamy on his huge Harley!!
2. Psyche-Out (1968)..love the way the movie starts with The Storybook's Pretty Song from Psyche-Out..later it was covered by Strawberry Alarm Clock. One of the best hippie exploitation films ever! Susan Strasberg plays a deaf girl who takes a bus trip down to the San Francisco Haight-Asbury scene looking for her brother. She meets Stoney (yay..Jack Nicholson again!!), and his hippie band in a coffee shop. Theres plenty of groovy psychedelic posters and art work around. There's a tragic end to this movie as well. I love this quote in the movie: "God is alive and well and living in a sugar cube."
3. I Love You, Alice B. Toklas (1968)..story about Harold (Peter Sellers), a lawyer who is being forced to marry his secretary. He gets side-tracked when he meets up with his brother, Herbie, who happens to be a hippie living in Venice Beach. Herbie's girlfriend is a flower child who loves baking magic brownies. The tripping scene is hilarious when it involves their folks. Harold tries to find himself by becoming a hippie himself, but then he has enough of the lifestyle and decides to marry his secretary after all. There's a groovy guru party scene in it and lots of craziness..its a fun movie!!
4. Go Ask Alice (1973) but it takes place in 1968..this is one of my fav. movies ever!!! It's about a 15 year old girl, Alice, who moves with her family to a new town and she desperately tries making new friends and trying hard to fit in to her new school with dire consequences. I'm sure you've heard of the book Go Ask Alice by Anonymous..the book is a great read!! There's a scene in the movie where she experiences her first LSD trip at a party without knowing it. The song Dear Mr. Fantasy - Traffic plays in the background. She gets hooked on drugs after that and gets into trouble and runs away and then the horrible babysitting scene near the end etc..
5. Woodstock 69..the best concert ever staged!! Love the beginning where they are constructing the stage areas, and people dancing to Going Up the Country..umm..yeah the first half of the docu-movie is more of the performance bits of bands, and 2nd half shows more of the people and interviewing them, and you get to see Janis Joplin behind the scenes, Wavy-Gravy, Jerry Garcia etc..
Other hippie films that are more favourites of mine:
The Love-Ins, Beyond the Valley of the Dolls, The Trip, Alice's Restaurant, Hair, Maybe I'll Come Home In the Spring, Head and Rainbow Bridge.
2:43 p.m. - 2020-04-25
Pamela DesBarres Lookbook


Groupies art I recreated (inspired by goldendomine)..and my Pamela DesBarres GTO's inspired outfit..everything thrifted..i think I purchased the skirt at Out of the Past. Pamela is my fav. GTO!! I loved reading the book "I'm With the Band"..its groovy that she is an only child too like me. And thanks to her, I've been eating cinnamon toast. Yum!! :)
3:06 p.m. - 2020-04-24
Biba
Wow, what a mess the world has become! Been keeping busy creating art, doing lookbooks, singing, baking, doing yoga and exercises, reading, watching films and 1970s Hawaii 5-0.
2:07 p.m. - 2019-06-21
Magical Stones



My favourite is the Opalite, the round iridescent one that resembles a marble or a fortune teller's crystal ball..this stone gives off high energy..great for meditation..helps to open up all Chakras.

Banded Carnelian is the orange-y stone..this helps bathe you in courage as you face personal challenges.

Picture Jasper resembles Arizona mountains..this is an excellent stone for creative vision initiative and boosts confidence.

The one with a hand in green stone has something to do with mindful serenity. Every time I go to the Shiny Company, I always pick up stones.

Marley keeps attacking my legs and biting them..what a weird kitty cat!! BTW..Marley is named after Bob Marley because I actually watched the film "Marley" a day before we adopted him!! How freaky!! Being a huge Bob Marley fan, I had to give him this name. Also our other cat was called Bob..so its kind of groovy this way!
2:12 p.m. - 2019-06-20
Calm Cool And Groovy
I am sitting here listening to September 24, 1999 - Xavier Rudd..the lyrics are really speaking to me..yes clouds seem thick and so much talk and humans have so much hate..listen to those lyrics! and my insecurity and guidance..coz I won't fall away..no I won't..i decided to come back to the first place I have ever been..I've tried Facebook..it made me feel like I was back in high school dealing with bullies and constant bullshit in my life, facebook was just a bad karma to begin with..i just wanted to get rid of all the negativity going on there! I was very disappointed in people and they hurt my feelings so much that I was becoming increasingly depressed and questioned my self-worth..Twitter was no different. People were rude, lying all the time, bullying constantly, nothing positive etc..

2018 was the worst year..so many things went wrong..i lost my Grandma, my fav. aunt, my fav. cousin within months of each other, and I lost my cat too..there was just so much loss to deal with that I didn't feel like facing the world most of the time! I had to struggle day by day but 2019 has changed around for me again..there seems to always be hope..i got back to creating art, working on art projects, and I have a new friend, Marley, a beautiful grey/white tabby cat who has helped me overcome my depression and brought back my energy and love for life..thank you, Marley :)