1:42 p.m. - 2020-06-05
Bowie Love



Watched Labyrinth last night..its one of my fav. fantasy films and I heart David Bowie in it a lot!! The characters are amazing,and the maze is a place I would love to be lost in! Except for the stink bog..haha!
8:04 p.m. - 2020-06-03
Closet Purge


It was storming real bad yesterday..we got hail and twister like winds!! So I decided to colour-coordinate my closet. I think it turned out pretty groovy! I also noticed that my fav. colour has to be blue..i have so many blue stuff..all shades of blue!
7:09 p.m. - 2020-05-29
Stop Racism!!


It was absolutely disturbing and devastating, and heartbreaking what happened to George Floyd!! This has to stop!!
12:55 p.m. - 2020-05-28
Space In Mind


Artwork I created in honour of NASA's space launch which was supposed to happen today..anyways, this piece is titled Space In Mind.
THE MOON:
This is the planet that rules the Sacral Chakra - the moon is the symbol of femininity - our desires and passions can move great oceans of energy (sacral chakra = element is water), the moon rules the unconscious, the mysterious, the unseen, the dark, as we move from our depths outward to create change in the world..
2:13 p.m. - 2020-05-26
Baby Lemonade

Hot humid summer daze..enjoying creating art outside on patio, listening to Syd Barrett, wishing I had a glass of freshly squeezed pink lemonade..
1:45 p.m. - 2020-05-25
Retro Shelfie



Been reorganizing my stuff lately..trying not to think of the fact that I haven't thrift shopped for nearly 3 months, or ate fish n chips at Ikea and had fun shopping there (the Ikea magazines are my bible!), or went out to a restaurant with friends and family..i really miss it a lot!! It's frustrating how much our lives have been wrecked! :(
7:18 p.m. - 2020-05-22
Mandala Pillows


Two groovy mandala print pillows I ordered from Grandcrafts.com..i especially love the peacock mandala one on the right coz it reminds me of a tapestry I've been wanting for like forever!
2:50 p.m. - 2020-05-19
May Playlist


soure:fine art America

1. Rainy Day Mushroom Pillow - Strawberry Alarm Clock
2. Conquistador - Procol Harum
3. It's A Happening - The Magic Mushrooms
4. Green Tambourine - Lemon Pipers
5. Dizzy - Tommy Roe
6. Fox On the Run - Sweet
7. Out of My Mind - The Backdoor Men
8. Black Betty - Ram Jam
Hey Groovy Peeps! Just a short compilation of songs I've been jamming to lately..mostly psychedelic tunes with some funky grooves mixed in.
9:19 p.m. - 2020-05-17
Miracle Eye


Miracle Eye drawing I did and stuck it on my window..since I couldn't order the sticker, I decided to create it instead. Went out for a ride today even though it was raining, everything seems so grey lately and everyone seems to be dealing with quarantine issues in so many different ways. How are you dealing with it?
8:25 p.m. - 2020-05-16
Sunny Goodge Street


Took my own custom made denim jacket and orange velvet shorts out for a walk around the neighbourhood and found a groovy little park.
4:33 p.m. - 2020-05-15
Abstract Art


2 drawings I recreated from the original artist..i think its Vasserely or Calder? This was the first real summer day to laze outside under the sun until the storm hit with torrential rain and cooled things off again..
2:10 p.m. - 2020-05-14
Shelley Duvall


I absolutely adore Shelley Duvall, especially in the film "The Shining"!! She's one of my most fav. fashion icons of the 70s! source:rogerebert.com
2:50 p.m. - 2020-05-13
Daisy Hippie Flowers


I made some hippie flower power daisies out of felt and hand sewn them onto my curtains. I think they turned out super groovy!! Also been baking a lot, chatting with friends online, ordering groovy stuff online, watching 1970s tv shows on dvd like Bionic Woman and Welcome Back Kotter. Playing fetch with my cat..yup, Marley thinks he's a dog!
2:36 p.m. - 2020-05-12
'Cause I Wear My Boots All Summer Long



It's a Stevie Nicks sort of day..
2:58 p.m. - 2020-05-11
Jerry Garcia Art



My Jerry Garcia drawing..amazing thrifted trippy print skirt that matches Country Joe, and wishing I was at an outdoor festival with the sparkling hot sun in my face!
3:10 p.m. - 2020-05-08
Meet On the Ledge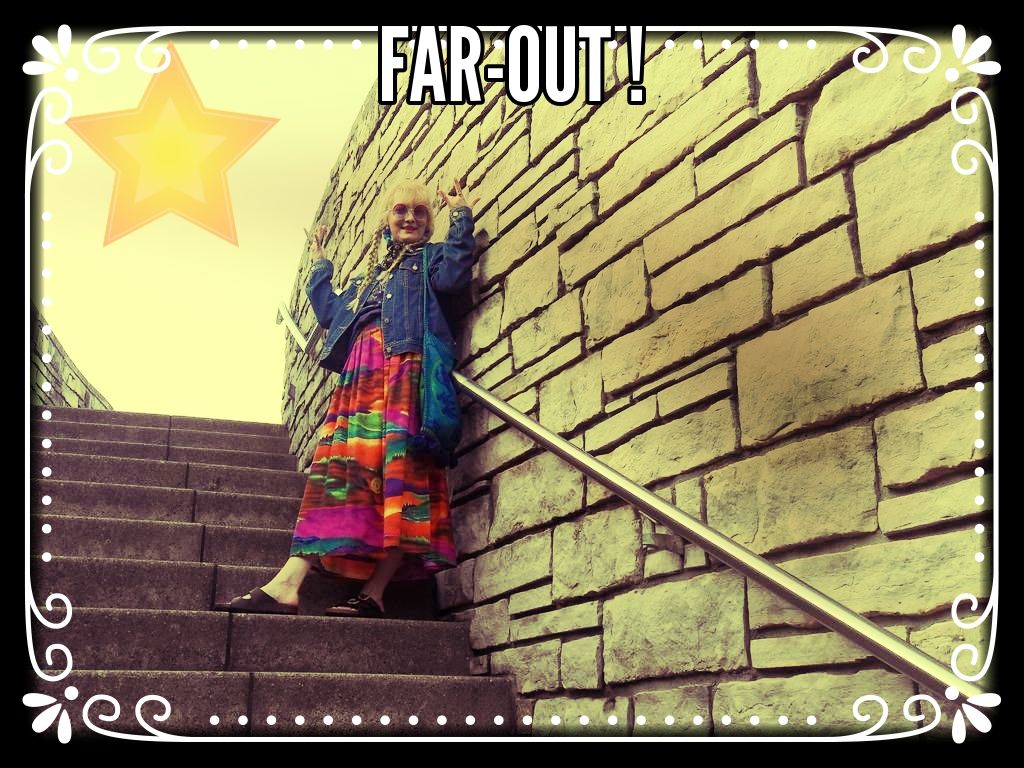 This pic was taken last summer when the world wasn't out of control, when daydreaming about the future was just a step away, when you could breathe easy, and venture anywhere you wanted to go..I feel like i'm travelling on the Starship Enterprise to apocalyptic lands where danger lurks..i think I've been watching too much 1966 Star Trek lately..haha..
4:36 p.m. - 2020-05-07
My Spirit Animal

The octopus is one of my most fav. creatures!! I heart them! So when I got octopus as my spirit animal, I was super thrilled! The octopus symbolizes strong intuition, deep emotions, intellect, talent, shyness, diversity, creativity..there are some things I'm not though, like I can easily camouflage myself in my surroundings..that is not true..I tend to always stick out of a crowd of people..I guess I'm the only hippie girl here..haha. Source:treehugger.com
3:06 p.m. - 2020-05-06
My Fav. 1970s Adverts

6:25 p.m. - 2020-05-05
Rock T-Shirt Collection


Some of my fav. rock t-shirts..including a vintage Queen that I found in Out of the Past thriftshop.
3:12 p.m. - 2020-05-04
Like A Rolling Stone


Thinking of how much fun summer art camp was with friends a while back..sitting at the camp fire telling ghost stories..Pammy was so good at them!! She would tell us the "drip..drip" one about the maniac under the bed which scared us all!! There were no night lights inside our cabins so we'd leave a flashlight on or a kerosene lamp on til dawn.
7:20 p.m. - 2020-05-03
Psychedelic Mushrooms

3:15 p.m. - 2020-05-01
A Hippie Anecdote


All my life I have been having fun experimenting with different fashion styles..I went through a punk phaze, goth phaze, rockabilly phaze, 1940s/1950s phaze, indie rock phaze, well, basically every fashion phase you can think of..haha. But I've always went back to what I love the most..hippie/boho fashion coz that is the real me! I'm totally a flower child..always was, always will be..sometimes I do a 1970s Stevie Nicks witchy look, or 70s rock n roll look, but I prefer the look that Kate Hudson had in Almost Famous and I also admire Janis Joplin's style very much. I don't like to copy other people, thats never really been my intention, I like to see and take certain aspects of fashion & put them together to make it my own. A few years ago in high school, there was a clique of hippie people whom I admired very much. At that point, I was totally clueless to fashion & just wore what I wanted to wear, mostly dark stuff. I didn't even know who The Doors were. I was in an art class filled with super groovy people & sadly I wasn't one of them. I began to search my soul for an answer & started to wear hippie skirts, tie-dye, & introduce myself to psychedelic music & something in me clicked for the first time, I knew who I was..although as a child, I was the original daisy girl, I wore flowers in my hair all the time, I just never realized what it all meant until later on in life. So, yeah, fashion journeys can be fun, tiresome, whacky, tacky, and in the end, you trully discover the real you! So, I'd like to thank all the wonderful hippie girls and guys who were in my art class for opening my eyes and finally finding out who I am.
7:49 p.m. - 2020-04-29
April Groovy Playlist


source:thedissolve.com
1.School's Out - Alice Cooper
2. (Bang A Gong) Get It On - T-Rex
3. Mellow Jam - Hendrix
4. Dreams - Grace Slick
5. I'm So Happy - Rainbow Ffolly
6. In the Time of Our Lives - Iron Butterfly
7. Cactus Tree - Joni Mitchell
8. I Could Be Singing - Arlo Guthrie
9. That's Your Business - Joe Cocker
10. Viola Lee Blues - Grateful Dead
7:21 p.m. - 2020-04-28
Listen To the Flower People



I miss walks in the park, collecting stones, thriftshopping, road trips with friends discovering new treasures, caramel lattes and birthday cake pops from Starbucks, pear tree pizzas at the Mahtay, going on a long hike etc..
3:30 p.m. - 2020-04-27
Happy Monday!

4:03 p.m. - 2020-04-26
My Top 5 Hippie Exploitation Films


1. Easy Rider (1969)..this is the ultimate road trip movie..the story is basically these two biker buddies who travel across the States and meet lots of interesting people along the way, like a hippie commune where they try LSD. They also make friends with a lawyer (Jack Nicholson), and take him along their adventure. It ends real sad though. I also own the soundtrack on vinyl which is filled with great songs!! My fav. is The Weight - The Band.."take a load off Fanny..take a load for free.." and I have this endless obsession with Peter Fonda!! Loooove him!! He's so dreamy on his huge Harley!!
2. Psyche-Out (1968)..love the way the movie starts with The Storybook's Pretty Song from Psyche-Out..later it was covered by Strawberry Alarm Clock. One of the best hippie exploitation films ever! Susan Strasberg plays a deaf girl who takes a bus trip down to the San Francisco Haight-Asbury scene looking for her brother. She meets Stoney (yay..Jack Nicholson again!!), and his hippie band in a coffee shop. Theres plenty of groovy psychedelic posters and art work around. There's a tragic end to this movie as well. I love this quote in the movie: "God is alive and well and living in a sugar cube."
3. I Love You, Alice B. Toklas (1968)..story about Harold (Peter Sellers), a lawyer who is being forced to marry his secretary. He gets side-tracked when he meets up with his brother, Herbie, who happens to be a hippie living in Venice Beach. Herbie's girlfriend is a flower child who loves baking magic brownies. The tripping scene is hilarious when it involves their folks. Harold tries to find himself by becoming a hippie himself, but then he has enough of the lifestyle and decides to marry his secretary after all. There's a groovy guru party scene in it and lots of craziness..its a fun movie!!
4. Go Ask Alice (1973) but it takes place in 1968..this is one of my fav. movies ever!!! It's about a 15 year old girl, Alice, who moves with her family to a new town and she desperately tries making new friends and trying hard to fit in to her new school with dire consequences. I'm sure you've heard of the book Go Ask Alice by Anonymous..the book is a great read!! There's a scene in the movie where she experiences her first LSD trip at a party without knowing it. The song Dear Mr. Fantasy - Traffic plays in the background. She gets hooked on drugs after that and gets into trouble and runs away and then the horrible babysitting scene near the end etc..
5. Woodstock 69..the best concert ever staged!! Love the beginning where they are constructing the stage areas, and people dancing to Going Up the Country..umm..yeah the first half of the docu-movie is more of the performance bits of bands, and 2nd half shows more of the people and interviewing them, and you get to see Janis Joplin behind the scenes, Wavy-Gravy, Jerry Garcia etc..
Other hippie films that are more favourites of mine:
The Love-Ins, Beyond the Valley of the Dolls, The Trip, Alice's Restaurant, Hair, Maybe I'll Come Home In the Spring, Head and Rainbow Bridge.
2:43 p.m. - 2020-04-25
Pamela DesBarres Lookbook


Groupies art I recreated (inspired by goldendomine)..and my Pamela DesBarres GTO's inspired outfit..everything thrifted..i think I purchased the skirt at Out of the Past. Pamela is my fav. GTO!! I loved reading the book "I'm With the Band"..its groovy that she is an only child too like me. And thanks to her, I've been eating cinnamon toast. Yum!! :)
3:06 p.m. - 2020-04-24
Biba
Wow, what a mess the world has become! Been keeping busy creating art, doing lookbooks, singing, baking, doing yoga and exercises, reading, watching films and 1970s Hawaii 5-0.
2:07 p.m. - 2019-06-21
Magical Stones



My favourite is the Opalite, the round iridescent one that resembles a marble or a fortune teller's crystal ball..this stone gives off high energy..great for meditation..helps to open up all Chakras.

Banded Carnelian is the orange-y stone..this helps bathe you in courage as you face personal challenges.

Picture Jasper resembles Arizona mountains..this is an excellent stone for creative vision initiative and boosts confidence.

The one with a hand in green stone has something to do with mindful serenity. Every time I go to the Shiny Company, I always pick up stones.

Marley keeps attacking my legs and biting them..what a weird kitty cat!! BTW..Marley is named after Bob Marley because I actually watched the film "Marley" a day before we adopted him!! How freaky!! Being a huge Bob Marley fan, I had to give him this name. Also our other cat was called Bob..so its kind of groovy this way!
2:12 p.m. - 2019-06-20
Calm Cool And Groovy
I am sitting here listening to September 24, 1999 - Xavier Rudd..the lyrics are really speaking to me..yes clouds seem thick and so much talk and humans have so much hate..listen to those lyrics! and my insecurity and guidance..coz I won't fall away..no I won't..i decided to come back to the first place I have ever been..I've tried Facebook..it made me feel like I was back in high school dealing with bullies and constant bullshit in my life, facebook was just a bad karma to begin with..i just wanted to get rid of all the negativity going on there! I was very disappointed in people and they hurt my feelings so much that I was becoming increasingly depressed and questioned my self-worth..Twitter was no different. People were rude, lying all the time, bullying constantly, nothing positive etc..

2018 was the worst year..so many things went wrong..i lost my Grandma, my fav. aunt, my fav. cousin within months of each other, and I lost my cat too..there was just so much loss to deal with that I didn't feel like facing the world most of the time! I had to struggle day by day but 2019 has changed around for me again..there seems to always be hope..i got back to creating art, working on art projects, and I have a new friend, Marley, a beautiful grey/white tabby cat who has helped me overcome my depression and brought back my energy and love for life..thank you, Marley :)