I've been soooo sick since i got the flu on Friday night :( I'm still blowing my nose like crazy. I was supposed to have gone roller-skating on Wednesday but i just felt so blah and besides that, i pulled a muscle in my right ankle, so skating was definitely out! Its sad too becuz we were around that area on Wednesday becuz we had to pick up the trophies that we ordered for the studio as keepsakes. It was +18 degrees but the wind still felt a bit chilly!
We headed into Toronto, and i noticed something rather funny..everyone seems to have doubles when it comes to dogs! is this some sort of new trend?? i saw doubles of dachsunds, old english sheepdogs etc..i trudged around some shops even though i was still stuffed up..i looked into Vintage Video where they are supposed to see really rare films but sadly they didn't have the ones i was looking for..i guess i would have to excavate film fossil mountain to get those! We went to Peach Berzerk and i loved these awesome bug print skirts and the groovy 60s mixed media hoodies with silkscreened pics of the Beatles, Twiggy, Marilyn Monroe, David Bowie etc..but they were sooo expensive :( this is a little of what their stuff looks like..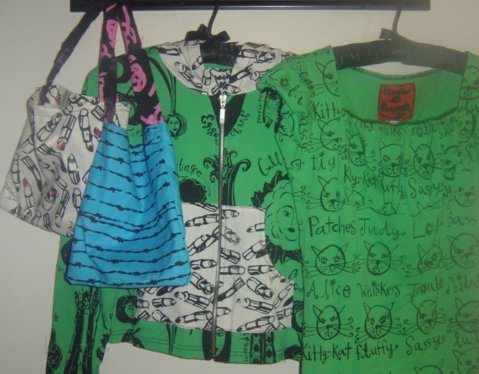 There was a cute tabby cat there who kept following us around and meowing at us and then she jumped up on the counter and smelled my pigtails which i thought was hilarious but i think she smelled Bobby on my hair. We then went to Mézes Macko (Honey Bear) Hungarian Deli which was amazing!!! We bought loads of yummy pastries like Dobos Torta(drum cake), Puncs (which tastes as sweet as marzipan but way better), my fav. candy Krumplicukor, a jar of sour pitted cherries,Happy Napolyi(peanut wafers) and the lady was so sweet, she gave me 3 free chocolate bars :) We then got dinner and headed to Harbourfront, i had a container of chow mein noodles which i got from Rabba's..yummmm!!! By this time, the van was spitting horrible fumes inside the car and the brake stopped working and no mechanic shop was open so my dad had to use the emergency brake to drive us home..we passed the Air Canada Center where loads of people were standing in line to get into a concert and later on i found out that is was Britney Spears Circus Tour..i would've been pissed off if it would've been The Rolling STones or an equally grand band! Luckily i had set the VCR to tape American Idol coz we got home late.
Over the weekend, i did see the film "Boy In the Striped Pyjamas" which was good but i found it was lacking in the emotional department..i didn't cry at the end, i don't know, it just could've been a whole lot better. I also saw Roy Orbison's 1987 concert on tv..it was fun seeing him perform with Elvis Costello, Bruce Springsteen, Tom Waits..its unbelievable that a year later Roy was dead. He could really hit those high notes!
Oh and on St. Paddy's Day, mom made homemade Irish stew with beef, sweet potatoes, carrots..it was beyond delicious!!and we also had yummy Irish coffee cheesecake and during dinner we listened to The Pogues and Gorky's Zygotic Mynci(even though this band is Welsh, they have several great Irish indie music). And being sick and all, i forgot it was Bobby's birthday, no wonder my cat was in a bad mood all day! anyways, when he sat in my lap, we sang Happy B-Day to him and he seemed to cheer up when i sang "for he's a jolly good fellow".
GROOVY STUFF:
+ chocolate pebbles from bulk bin
+ fruity iced-tea from Starbucks
+ the indie guy in tight leather trousers who was walking on Queen street
+ Formula One starts March 29th..sooo excited!!
+ Stew getting me an extra "Milk" poster :)
previous
Magical Stones - 2019-06-21
Calm Cool And Groovy - 2019-06-20
Hippie Haul - 2015-08-02
Thrift Haul - 2015-07-31
Much Ado Being Sick! - 2015-06-22

It won't let me edit profile - so here it is:

FAV. BANDS/MUSICIANS - grateful dead, greta van fleet, kula shaker, enigma, xavier rudd, led zeppelin, janis joplin, jimi hendrix, fleetwood mac, the doors, bob marley, beatles, stones, bowie, pink floyd..

FAV. FILMS - almost famous, dazed n confused, picnic at hanging rock, foul play, groove, jurassic park, twister, ice storm, virgin suicides, close encounters, dark crystal, go ask alice, & lots of horror..

FAV. BOOKS - go ask alice by anonymous, animal farm by george orwell, virgin suicides by j. eugenides, i'm with the band by pamela desbarres, weetzie bat by francesca lia block, grapefruit by yoko ono, wilderness by jim morrison, the sun and her flowers by rupi kaur..

FAV. THINGS - 1970s, bohemian, Buddha, salt lamps, stones, astrology, animals, cats, butterflies, daisies, sunflowers, tarot cards, Indian foods, vegan, yoga, elephants, bamboo, succulents/cacti, moon, sun, Morocco, painting, nature, outdoor festivals, hula hooping, psychedelica..